Hello everyone!
So as you may or may not have guessed, today I'm going to be talking about one of the most exciting pieces of literary news to surface this decade. J.D. Salinger, author of
The Catcher in the Rye
,
Franny and Zooey
,
Nine Stories
, etc. had continued to write before his death, and he gave instructions for five novels to be published in sequence between 2015 and 2020. Now I don't know about you guys but this news made me the happiest person alive. As
Catcher
is my favourite book in the whole world, to hear that we're going to be getting another story about the Caulfield family just amazes me. Plus we have a trailer for the new Salinger documentary which will be hitting theatres pretty soon I think, but you can check it out right here.
Well, wasn't that exciting? Some fans are really skeptical about this documentary because it was known that Salinger really didn't want to be famous. Of course he suffered from PTSD when he came back from fighting in the war, which is probably what drove his desire to be left alone for so long. So would he approve of the documentary? I mean, we'll never know for certain, but there's a reason he told the books to be published after his death, and that's because he didn't want to be there to live through the hype of Catcher again.
Moving on, I'm currently reading The Spook's Secret which is the third book of the Wardstone Chronicles. These books have really entertained me whilst I've been reading them, and this book doesn't differ. They've moved setting for this novel, but it doesn't take away from any of the mystery and action that fills the pages. The recurring characters make it easy for one book to flow nicely into the other, without them being overly similar, and I find you get a real sense of atmosphere whilst reading them. I mean, you don't always get that with a book, and that's what makes this series special.
When I got back from holiday, I was actually waiting for said book to arrive, and so for five days I sat down and read nothing but comic books which was actually quite fun. It was great to get away from black and white words on a page, but at the same time I was relieved when it did finally arrive. The comics I read were Kick-Ass, Kick-Ass 2, and Batman: Year One. I'd already read Kick-Ass but I wanted to read it again before I read the sequel. They were both brilliant, and I recommend them to every reader, even if you're not into graphic novels. They are seriously fast-paced and well thought out.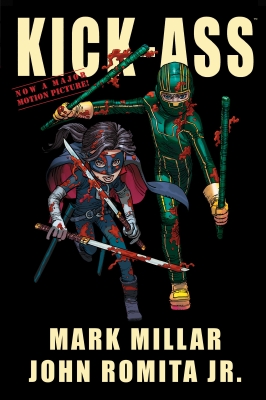 So yesterday I went to see
The Mortal Instruments: City of Bones
, and I quite enjoyed it which I really didn't think I would. Despite hating Clary, hating Jace, and overall basically not enjoying the book series, the film was a good piece of cinema and I think the actors got the characters to a T. Perhaps Jamie Campbell-Bower could've been a little bit more arrogant, and perhaps they could've kept the plot-line closer to the book, but if you have an adaptation like that one then I don't really think you can complain.
I also went to see
Percy Jackson and the Sea of Monsters
. The book series is one of my favourite series ever, and to see the plot of the second book just torn to shreds was kind of upsetting. In its own right it was an enjoyable film, better than the last one with the addition of Mr D and blonde Annabeth, but they still got it completely wrong, and Annabeth annoyed me to no avail.
I returned to college today and also, they've just opened the new Library of Birmingham in town which I'm going to see on Saturday. I think it's one of the biggest in Europe and they have a huge Shakespeare archive, so that should be fun!
Also they've reprinted the covers of
The Demonata
and
The Enemy series
and I'm pretty angry because now half is in one format and half is in the other, and the new covers look really ugly.
But sorry this post has been so messy. I haven't read many novels, it's been comics for the past week, and I was desperate to write about Salinger! I'm probably going to read
Franny and Zooey
again soon because the Glass family are the most perfect dysfunctional family that I have ever come across.
This post is dedicated to Seamus Heaney who we lost on the 30th August 2013. Rest in Peace.
Thanks for reading!
Rachel x
tumblr
goodreads