Still battling through The White Queen, although it's a lot better than I expected it so be, and so I'm pretty sure I'm going to be rating it quite high once I'm finished! I do love historical fiction though, The Book Thief was amazing and I've been meaning to read Hillary Mantel's series which is also supposed to be quite good.
But I wanted to review Wonder today, because it's a book that I read quite recently. Some of the books I've read since the start of this year I think I might have left it to late to review, but this one was a book that really stuck in my mind and I'm quite excited to talk to you about it.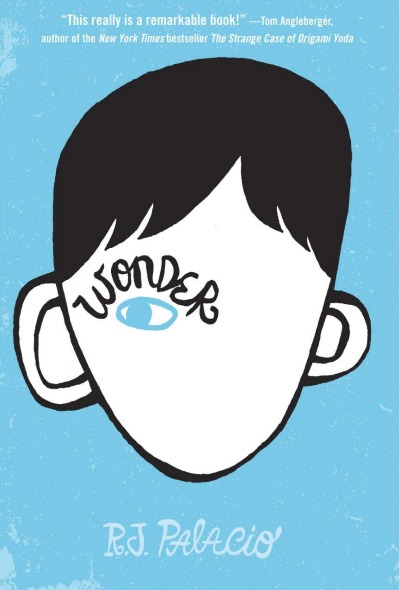 My expectations of this book were set quite high. It became a bestseller and I kept seeing in on the recommended shelves every time I walked into a bookshop. Eventually I borrowed it off my best friend and got stuck into reading, and I'm pretty sure I'd recommend this to just about anyone because of how heart-warming and nicely written it is.
Wonder is about a boy named August who's face is severely disfigured, and is starting middle school for the first time. I already assumed that the tone of the book was going to be kind of upsetting because of this; kids can't help but bully each other sometimes, and when you really get into the book you realise that you're scared for August because you've developed a connection with him. It's this which made the book such a delight to read. All the character's centre about August because of their love for him, and in the end you end up feeling the exact same way.
The writing was brilliant. The structure of this book is quite unique because it's told from the point of view of several different people, of all whom have had their life affected by August in some way. And this really works because it gives the reader a time to digest the different opinions that people have of August; we see him through his mother's eyes and through his best friend's eyes, which, although different, are intriguing to delve into. Everyone in this novel is interesting and really stands on their own two feet.
As for the plot, it's very simple in how it addresses the 'coming-of-age' themes, and I feel like this is why I didn't push it up for four stars. The sort of beginning-a-new-school and being-in-a-play and going-on-a-camping-trip-where-dramatic-stuff-happens themes are ones that we see in almost every novel set around a kid starting a new school. Though this experience is different because of August not being your average kid, it's still not dazzling enough to make this a perfect book.
Nevertheless, I'd still recommend it to a lot of people. It's beautifully written and a fascinating book to read. Near the end, I even had to dab a few tears away because everything came to a warm and fuzzy conclusion. It will make you feel happy, and sad, and a mixture of things I really can't explain! If you're curious about this though, you should definitely pick it up!
Once I finish reading The White Queen I'm going to be carrying on with the Maze Runner Series which I'm really enjoying. I'm pretty excited to talk about the The White Queen so that'll be the next review that's up.
Thanks for reading, I'll update soon!
Rachel x