Hi everybody,
I started thinking this morning about how I choose my ratings for books, and I often scroll back through them wondering why I gave such high starts to books that, in hindsight, weren't that great. I realised that it's inevitable - the more I read, the larger the spectrum of quality is going to become. Books that seemed great to me when I was younger, after a few years or so compared to the new literature I've found might seem bane in comparison.
Then again, I'm a believer in rating books based on your own personal enjoyment, and so the times I
have
changed ratings I question the validity of my response. This whole conundrum came about because the book I'm about to review for you today is one I genuinely had trouble coming up with a rating for. I ended up going with my first instinct, but feel like I will alter it yet.
Part of me doesn't want this book to exist, because I'm scared that somebody will pick it up, not knowing what it's about, read it, and realise that they relate. I wouldn't want anybody to relate to the main character in this novel, not ever. Yet that is an impossible want, because there is such an array of emotions, thoughts and action that takes place here it is genuinely impossible not to feel that at least one person in this novel is going through the same thing as you.
A Little Life is about four friends in New York, Jude, JB, Malcolm and Willem. They meet at college and we follow their friendship up until late adulthood. At first it seemed like the attention will be divided equally between the friends, but soon becomes apparent that this is a novel about Jude. Whilst the backgrounds are the others are still definitely explored, it is Jude who both the reader and the other characters know nothing about. As the novel goes on, we uncover the secrets of his past, and discover why they have been kept a secret.
I have known people describe this as "torture porn", and, as dodgy as that sounds, I'm beginning to agree. Readers are exposed to not just Jude's horrific history documenting his sexual and physical abuse, but the emotions he feels in the present. It very much reminds us that our past is something we cannot escape, and sometimes we don't have a choice in the pain we want to keep or let go of. Jude frequently harms himself, refuses to believe in himself and suffers crippling insecurity about his significance in other people's lives. I found it devastating, having grown fond of Jude by the middle of the book, that he couldn't see his brilliance, or his talent, and couldn't recognise the love that William and Harold were trying to bestow on him.
This is the thing I had the biggest problem with. Whenever I picked it up I was scared of what was coming next on the page because there was just so much that these characters were being forced through. I felt uncomfortable knowing that I was reading their pains for entertainment, that what kept me up at night was the thought that I'd actually find out what happened, that perhaps he'd accept himself, perhaps he'd recover. Whilst they are topics that have to be addressed in real life, because they are real life, there was no doubt that the magnification of them to such an extent was heartbreaking and traumatic.
I gave it four stars though, because despite the fact that this novel writes about some ugly things, it is definitely beautiful. The writing was spectacular, fresh and invigorating. It did so well to capture the emotional depth of the characters. A lot of the time it is actions that move us when we read about them in books, but in A Little Life the density and intricacy of the words moved you too. Part of me wants to go back and reread sections of this novel again because they were so beautiful and so unique. I have to admit that I haven't stopped thinking about this ever since I closed it - I'm borderline obsessed - which is why I'm starting to wonder if this is a text that haunts you more after it's over rather than when you're in the middle of it, very much like Jude's own past.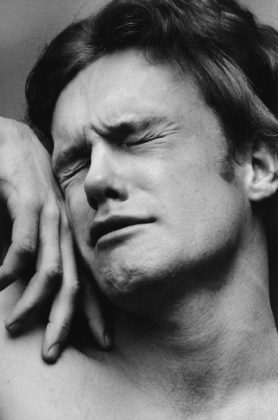 This photograph is "The Orgasmic Man" by Peter Hujar, and it features on the American cover of
A Little Life
. I think Yanagihara herself sums up the relevance of this picture in a post by her on the
@alittlelifebook
instagram page. She says:
"

I love how you can't tell whether the person in it is in pleasure or in pain; in ecstasy or in anguish. I love that it demands your attention, that it dares you first to look, and then dares you to not look. I love how alive with expression it is, how you as a viewer find yourself in the uncomfortable but bewitched position of beholding someone at a moment of clear vulnerability. You, the viewer/reader, are both voyeur and companion, intruder and friend - which, of course, is exactly how I hope you feel when you're reading the book, and witnessing Jude's life as he moves through it.
I'm currently reading
The Outsider
by Albert Camus as a continuation of my voyage into existentialist literature. It's very good so far, but I'm going to read some critical material alongside it because I'm pretty sure that there are things underneath the surface which will add a lot of meaning and that I don't want to miss. I'm also going to return to Beckett, my love, and then I'm at loss until Christmas so will probably return to my TBR jar.